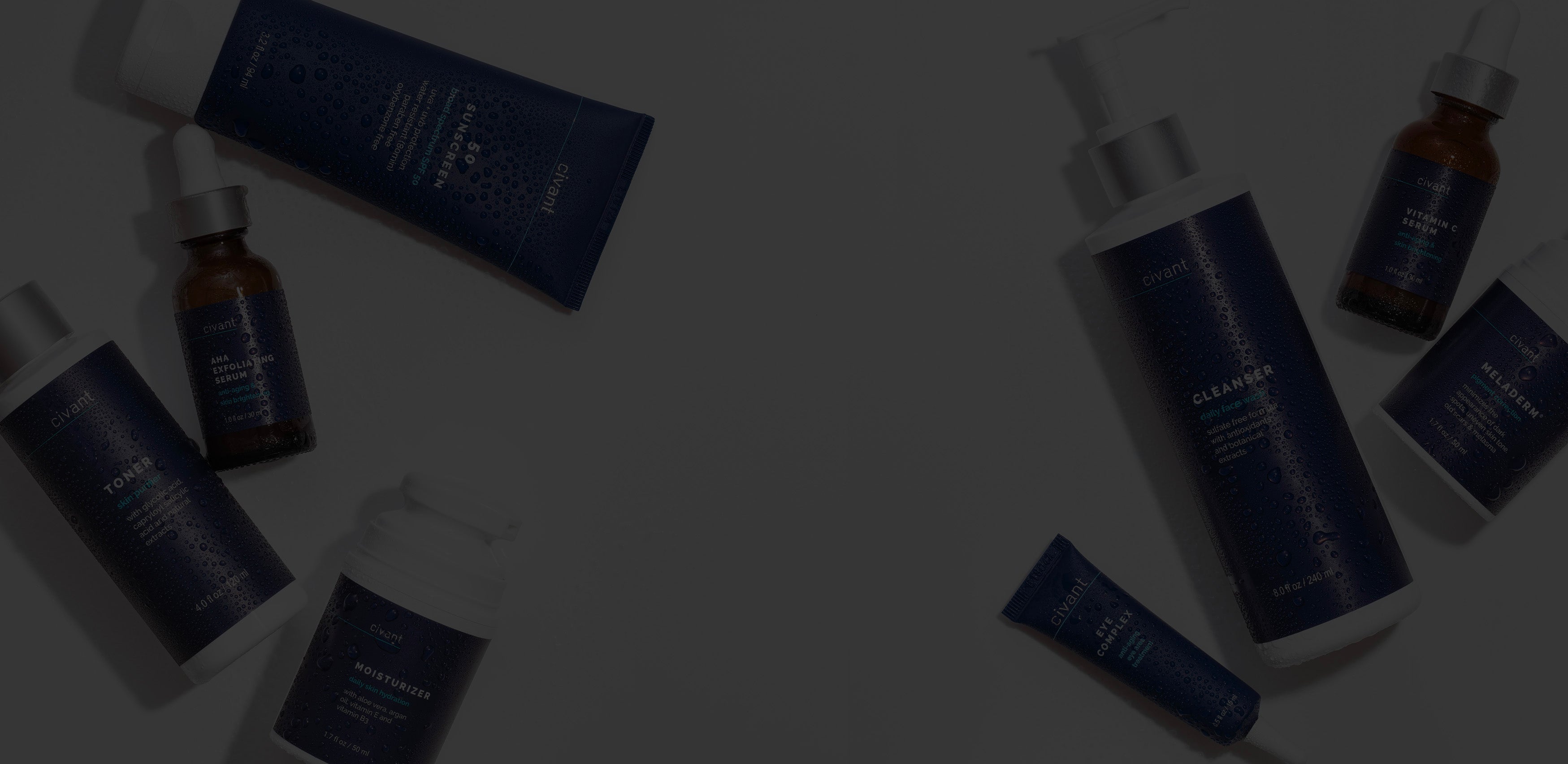 You've got questions and we've got the answers. If you don't see what you're looking for here, use our contact page to get in touch.
Contact Us
Products & Results
Are your products safe for long term use? Do they contain any substances like hydroquinone or mercury?
We DO NOT include any hydroquinone, mercury or steroids in our products. Many of the active ingredients in our formulas are derived from natural extracts such as Mulberry, Licorice and Bearberry plants. These extracts are also filtered and sterilized. As with any cosmetic product, please consult with a dermatologist or doctor prior to use. Long term use of any skin care product should always be monitored by a medical professional.
Will the creams cause any skin irritation or other side effects?
Everyone's skin and body is different. Because of this, there is a very small chance that your skin may be allergic or hypersensitive to an ingredient in our products. Our ingredients are generally tolerated by most individuals, however, there are some skin types which may be extremely sensitive and can react adversely to the product. Some individuals may experience a slight redness or darkening of the treated areas in the first few days while their skin adjusts to the product. We recommend that all of our customers test for allergic reactions by applying a small amount on the neck or arm prior to using on the face. If your skin is overly sensitive to any of the ingredients in our formula, we suggest you discontinue use.
As with most skin brightening products, your skin may become extra sensitive to the sun during use. Heavy sun exposure or the use of tanning beds and/or sun lamps may increase the risk of skin cancer in individuals with fair skin. Wear sun block while treating your skin with any of our products.
How long does it take to see results?
Initial results are often seen in 2-4 weeks with more noticeable results after 2-3 months of regular use. Individual results may vary and first time customers are offered a 30 Day Money Back Guarantee if initial results are not seen. Results will vary depending on your skin type and the amount of sun exposure you receive on a daily basis.
How long will a bottle of Meladerm® last?
The 1.7 oz bottle dispenses approximately 1ml/pump (or 50 full pumps worth of product). If you are treating the entire face, a half pump's worth of product is typically enough for one application. When used twice daily on the entire face, the 1.7 oz lasts roughly 7 weeks. When treating smaller areas such as the hands or neck, the 1.7 oz should last much longer.
How should Meladerm® be applied?
All of our products should be applied as an even layer over the desired area. The product can be applied in the general areas of hyperpigmentation. It does not need to be applied precisely on the spots/discolorations. Washing the skin before applying the cream will greatly improve the effectiveness of the product. You should rub the cream into the skin until it has absorbed entirely. Please avoid washing the skin immediately after applying the product. Moisturizers, sunblock and makeup can be used after the product has been applied successfully. A detailed instructional booklet will also be included with the product.
How does Meladerm® brighten the skin?
Meladerm® works to brighten the overall complexion by reducing the appearance of hyperpigmentation associated with sun damage. Over the course of a few months, treated skin will gradually appear more uniform and eventually be restored to its original luminous appearance.
Does Meladerm® work on dark, African American and/or ethnic skin tones?
Yes. Our products have been proven to work on all skin types, regardless of color and ethnicity. Individuals with very dark skin tones may take longer to see results.
Can your products be used by men and women? What about children?
Yes. All of our products are suitable for both men and women. The creams can also be used on children above the age of 12 when administered by an adult. Please consult with a doctor before use if you have any special skin/medical conditions.
Can Meladerm® be used by pregnant women and nursing mothers?
No. Women who are pregnant, plan to become pregnant or are nursing should wait to begin treatment with the cream until after pregnancy or when nursing has concluded. The safety and efficacy of Meladerm® in pregnant women and nursing mothers have not been established.
Do your products help reduce acne and/or wrinkles?
All of our products contain natural extracts and vitamins which are known to reduce the visibility of fine lines and wrinkles. To specifically target wrinkles, we recommend the use of our Firm & Renew™ Complex which works well to reduce appearance of fine lines and aging skin.
Can I mix a product with other creams and/or products?
You may use additional moisturizers, toners and cleansing products in routine with our products. We do not recommend you directly mix the product with any other substance. Please test for skin irritation when using multiple products on the face and body.
Can Meladerm® be used on the body?
The cream is very concentrated and generally used to target specific areas on the face, hands and neck. However, you may also use the product on larger areas of the body as well. All of our products are for external use only.
Can I wear makeup after applying a product?
Yes. However, please wait at least 10 minutes before applying any makeup and/or sunblock. This will allow the product to absorb properly into the skin.
How should I store the products?
Refrigeration of our products is recommended for long term storage (more than 1 year). For regular use, keep lid tightly closed and store in a dry cool place away from light exposure.
What makes Meladerm® more effective than other similar products on the market?
There are hundreds of skin brightening products already on the market. You may even see creams that contain the same active ingredients as Meladerm®. So what makes the Meladerm® formula so unique? Simply put, research! Though a low grade product might contain similar ingredients, it doesn't guarantee its effectiveness. In order to harness the true power of the active ingredients, great care must be taken when manufacturing the product. Light and air can easily deteriorate substances like Kojic Acid. Other ingredients must be carefully stored in vacuum desiccators in order to preserve their shelf life. Furthermore, the Civant team takes great effort to micronize and filter all of our active ingredients and extracts for superior efficiency. Most lower quality manufacturers do not take these precautions. When creating a product, the base ingredients are just as important as the active ones. It is important to choose proper carriers and liposomes to ensure that the active ingredients are absorbed deeply into the skin. It is also wise to include effective preservatives and moisturizers to ensure minimal skin irritation. Meladerm® contains the highest concentrations of active ingredients tolerated by the skin. The use of special base ingredients and high quality actives is what brings out the true effectiveness of the formula and sets us apart from other manufacturers.
Are your products tested on animals?
No. All of our products are cruelty free and vegan. Additionally, Civant is a member of the PETA Beauty without Bunnies program.
Where are Civant® products manufactured?
All of our products are manufactured in the United States in a FDA registered and CGMP (Current Good Manufacturing Practices) compliant facility.
Shipping
Do you ship internationally?
Yes. International orders may be placed online or by mail. If your country is not listed in the online checkout, please use either PayPal or the Mail Order form to submit your order.
How long does shipping take?
If you live in the U.S., you can typically expect your shipment to be delivered within 5 business days of placing the order. International orders may take 5 - 10 business days to arrive if shipped via Priority Mail; or up to 6 weeks if shipped via Economy Mail.
Do you ship to PO Boxes and/or APO addresses?
Yes, we ship to PO Boxes and APO (Military) addresses via the United States Postal Service.
Returns
Can I return the product for a refund if I'm not happy?
Contact us for a Return Merchandise Authorization (RMA) number. Please see our Our 30 Day Money Back Guarantee is offered to all new customers on first time purchases. We will issue a full refund, less shipping, on returned products, used or unused, post-marked within 30 days of the initial delivery date and accompanied with a RMA number. Reorders and wholesale orders are non-refundable. If multiple orders for the same item(s) exist in one household, only the first order may qualify for a refund if within the 30 day time frame.
Orders
What payment methods do you take?
Through our website we take PayPal, all major credit cards, and Visa and Mastercard debit cards.
Can I place an order by phone?
Please call toll free: (888) 324-8268
Is it safe to order online? Will my credit card be charged without my approval?
All pages where you provide personal credit card information use Secure Server Software (SSL) encryption technology. SSL is the industry standard and among the best software available today for secure transactions. Civant Skin Care uses secure technology, privacy protection controls and restrictions on employee access in order to safeguard your personal information. Civant Skin Care will only charge your credit card if you confirm a purchase with us. We do not keep credit card information on file and we do not process any recurring billings or monthly charges. The only time you will be charged is when you submit credit card purchases on our website and confirm this transaction through our checkout process. For more information on how your information is handled, please view our privacy policy.
To be notified of any free samples, please join our mailing list from the site footer.
Do you offer discounts for large orders?
Please use our contact page to request a quote for large orders.